Did you know 49% of consumers reported watching five or more videos per day in 2019? And after watching a video, 64% of people will then go to the company's website or landing page as well.
Thanks to the rise of video advertisements, Facebook stories, Instagram, TikTok, and YouTube channels, videos have become the most dominant tool available in the marketing industry.
As a business owner, investing in video ads, explainer videos, and other video content is the smartest choice you can make for your bottom line. But if you want to get a return on your investment, the videos have to be high-quality, relevant, and interesting.
To determine whether a video production company is the right choice, you must first see that they are able to promote their own services using videos.
Run Away from Video Production Companies That Don't Promote Themselves With Video
One of the most crucial standards for any business in any industry is to "practice what you preach".
Can you imagine going to meet up with a new personal trainer only to find out they are out of shape and unhealthy? Would you trust them to help you with your fitness and nutrition?
Probably not.
The same goes for hiring a video production company. If a team is truly reliable, they will use videos to market their own services as well. When someone believes in their talent, they put it to work both for themselves and for their clients.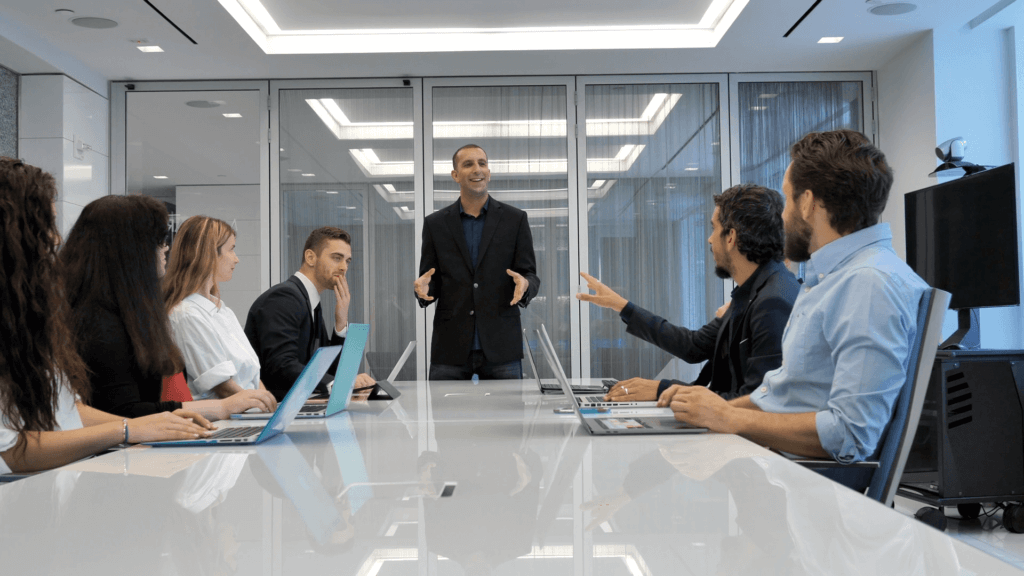 We all know video improves conversion rates, so why wouldn't a talented production company put their own knowledge to use for the same purpose?
It is absolutely essential that you find a team who uses video to promote their own business so you know they can do the same for yours. If a video marketing company uses plain images and bland graphics to advertise, odds are their video content will likely follow the same boring style.
If a company won't show you examples of their finished videos, you should run the other way. Anyone who is good at what they do has examples of past clients and projects along with content they've created to promote their own business. The only reason why someone would be afraid to show you their videos is if they didn't think their content was good enough.
That is a major red flag.
You can see how good a production company is through the videos they share on their own website and social media channels. It will also help you see if they have the style and capabilities available to handle the project you have in mind.
When video examples are available, you should carefully review them and see if they are effective marketing tools. You can often judge a company's future success by their past achievements, so you should always check out a production team's previous projects and accomplishments.
7 Other Things to Avoid When Choosing Your Video Production Team
Companies need video content for marketing campaigns, but there are more ways you can use videos as well. You may want to create an instructional how-to guide or showcase an interview with one of your employees.
No matter why you need video, you should be wary of the following red flags when you begin your search for a video production company to ensure you don't end up trapped with a company that is unreliable and inexperienced.
Red Flag #1: A Video Team That Doesn't Understand SEO
Search engine optimization (SEO) is used to signal the topic of your content to search engines. And videos are the most powerful way to improve your site's SEO results. While videos are watched by viewers, search engines are growing more advanced, allowing them to understand much of what is being said in this visual content.
Search engines also crawl through pages to look at keywords, titles, meta descriptions, and other factors to see what your content is about.
There are some companies known for creating great videos, but they don't have a solid grasp of SEO. This is a problem since online videos need the right SEO techniques to drive web traffic, increase conversion rates, and rank in the search engines.
Videos will rank more effectively in search engines when the proper practices are followed. This includes using transcriptions, related content, and powerful keywords to get your video content noticed.
Red Flag #2: Companies Who Aren't Up-to-Date on New Tech
As technology changes, video content has to change as well. If you were an expert on video production, you wouldn't have to hire a production company. It is the production company's job to stay up-to-date on new technology. This includes everything from cameras and lighting to social media sites and other places to post video content.
New tech can even be found as the video production industry grows. Amazing advancements have taken place within the past couple of years with things like virtual production, which is changing the way videos are being created altogether.
If your production company doesn't understand different distribution channels or advanced techniques, you need to look elsewhere.
Red Flag #3: Video Producers Who "Guarantee" Your Videos Go Viral
If someone assures you they can make your video go viral, you're talking to a snake oil salesperson. No matter how talented or experienced a company is, they can't guarantee a video will go viral.
Think of it this way. If one company knew the formula to make a video go viral, other people would have copied it. The formula would stop being effective as soon as everyone was doing it.
While it is impossible to guarantee a viral video, a good production company can increase the odds your video will go viral. There are best practices they can use to make a video more engaging and relevant. But anyone who says they can guarantee a viral video is simply trying to get you in the door.
Red Flag #4: A Business That Treats You Like a Number
No two people or businesses are completely the same. You have a unique brand, and your brand's voice needs to come through your videos. To achieve this goal, the video production company has to care about who you are and treat you like more than just a number.
The only way your videos will succeed is if they are designed to match your organization's specific mission, goals, and brand. For this to happen, the company has to listen to your needs and put them to use in a customized way. Avoid video production teams that use template style content to promote your business.
Red Flag #5: Companies With No Distribution Plan for Your Videos
If you simply throw a video on your site, odds are it won't do very well. You must have a plan in place for getting people to see your video. Your distribution channel will determine the kind of video you make and how it is promoted once complete.
For example, TikTok videos are short, 10-15 second clips. If you make a five-minute ad, it will be too long for your viewers.
The video production company has to have a plan for getting your video out to the world. They need to know how to optimize the video for platforms like YouTube, Facebook, and Instagram. By identifying where the video will be shared, they will know how to format the video properly.
Red Flag #6: A Team With Limited Customers or Reviews
Testimonials are an important way for you to learn about a company. If the company is unwilling or unable to show you any reviews, you should find a more experienced team to work with.
The only way you can know if a company is any good is by looking at their past work and verify that the customers were happy with the final result. A good company will be willing to show you their reviews and past projects. When companies refuse to do this, it is generally because their past clients haven't been pleased with the services they have received.
Red Flag #7: Production Companies That Create Videos With No Clear Objective
To be successful, videos need to have a clearly defined purpose. Are you trying to advertise a new product? Or do you just want to showcase your employee of the month? Perhaps you want to promote your most effective service?
The video's objective will determine the overall message you create. If the production company doesn't have a goal in mind, you will end up reshooting scenes or have a confusing final video. To maintain a clear message, your video needs to demonstrate what you want viewers to know and how they should act after viewing the film.

A clear message is also important because of how oversaturated the marketplace is with content. If you want to stand out from everyone else, you need an engaging, unique storyline. You must forge a deep connection to keep the viewer's interest.
Like all content marketing tactics, your video content needs a defined purpose and a hook to engage your viewers. If the video production company doesn't know what their objective is (and how they are going to reach it), your video won't be able to achieve its goals.
Get the Best Video Production for Your New Campaign
Whether you are creating a how-to guide for your customers or a marketing ad for a new service, you need the right video production company if you want your plan to be successful.
If the production company won't use videos for their own marketing efforts, you should run the other way.
To get started on your company's next video, reach out to the Top Notch Cinema team today at (332) 255-2456!